Lyme Disease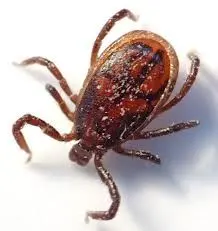 Northwest Illinois is considered a high risk area for Lyme disease a potentially serious tick – borne illness that can affect your dog and you. Dogs and people get Lyme disease from the bite of an infected Ixodes tick called "the deer tick". The tick must be infected with the bacteria Borrelia burdorferi in order to infect you or your dog. Exposure to Lyme disease may be greater among dogs than humans because they spend more time in backyards or in areas where they are in contact with ticks (woods, grasslands and along beaches). It is important to remember that even small mammals (mice, squirrels, etc.) can carry the tick into your yard- you don't have to have a deer in your yard to have ticks. One tick in your yard can lay 450,000 eggs leading to a large tick burden in your own backyard and these ticks can be moving any time it is over 35 degrees outside.
The signs of Lyme disease can take months to develop and are easily mistaken for signs of flu or arthritis. The most common sign is lameness due to joint pain but other signs include tiredness, loss of appetite, fever and arthritis. In rare instances, untreated Lyme disease can lead to more serious complications such as heart disease, neurologic disease, kidney disease and, in rare cases, death. Lyme disease can be treated with antibiotics and supportive care but prevention is the best medicine.
Be proactive in preventing Lyme disease in your dog with a comprehensive tick – borne disease control program. You should examine your dog daily for ticks and, if you find any, remove it with tweezers. Keep your dog on effective tick control year round and vaccinate your dog every year for Lyme disease. In an area like ours, 75% of unvaccinated dogs will contract Lyme disease. The Lyme vaccine works by blocking transmission – from tick to dog – of the bacteria that causes Lyme disease and generates protective antibodies. Vaccination is most effective when given at an early age with the initial vaccine series followed by yearly boosters. Also, consider performing a 4Dx test on your pet every year especially if they have known tick exposure. This test requires a small amount of blood and tests for heartworm disease, Lyme disease, and two other tick borne illnesses which are becoming more prevalent and for which there are no vaccines. Call today to see if your dog is as protected as it should be.
Lyme Disease Risk Assessment -If you answer yes to any of these questions or find a tick on your pet call and ask about Lyme vaccination and tick control.
Does your dog live in a suburban home next to wildlife areas?
Is your dog's yard surrounded by tall brush?
Does your dog go walking, hiking, picnicking, fishing or camping in wooded areas?
Does your dog frequent areas with a lot of deer or wildlife (parks, wooded or grassy areas)?
Does your dog ever run through tall grass, underbrush or bushes?
Is it likely that you would miss seeing a tick the size of a pinhead on your dog?
Have you removed a tick from your dog in the last year?