Orthopedic Surgery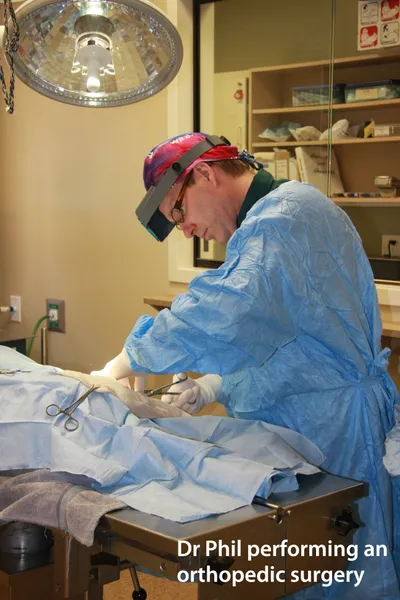 Any surgical procedure involving the skeletal system (bones, joints, ligaments and tendons) is considered orthopedic surgery. These types of procedures include, but are not limited to, simple and complicated fracture repair, ruptured ligament repair, patellar surgery, amputation, and procedures to aid in the treatment of hip dysplasia.
We recommend pre-anesthetic blood testing prior to all surgical procedures. These tests help determine liver and kidney function, along with evaluating the blood cells which aid in infection control, blood clotting and healing. Even apparently healthy animals can have serious organ system problems that cannot be detected without blood testing. At River Ridge Animal Hospital we can perform in-house immediate testing prior to surgery.
We use the safest injectable and inhalant (gas) anesthetics available in veterinary medicine and we carefully monitor each anesthetized patient with pulse oximetry, respiratory monitors and a certified veterinary technician.
Managing pain is a critical part of our strategic plan, before, during and after your pet's surgical procedure. We utilize protocols designed to keep your pet comfortable and free of stress during surgical procedures. These medications are tailored to your individual pet and the procedure being performed.